Design Tricks to Attract More Audience in Email Marketing
Many marketers consider email marketing to become a thing of the past. However, I am not a part of them. Of course, I am sure that modern communication methods like chatbots, social media messaging, Instagram influencers, have a number of undeniable benefits over the traditional tools. But using the oldest one [email] is still effective and worthwhile, believe global stats.
According to the latest findings, email is yet one of the most profitable design marketing strategies. It generates 3,800% ROI, has a great impact on CTR and CTOR. For every $1 spent email brings $38. Moreover, 93% of B2B marketers consider email to be an effective tool to distribute content. Why? The answer is obvious. Email campaigns serve the easiest and most powerful method to find, target and reach the right audience for your business.
How to Find an Audience for Emailing
Nowadays digital technologies have been developing with a quantum jump. Using its end-products allows website owners to modernize their online presence, increase organic traffic, and improve ROI. As for email marketing, this strategy has been upgraded as well. Now website owners can take advantage of utilizing innovative popups for generating a wide customer base. Moreover, they serve as an excellent tool to improve the UI and UX of your website.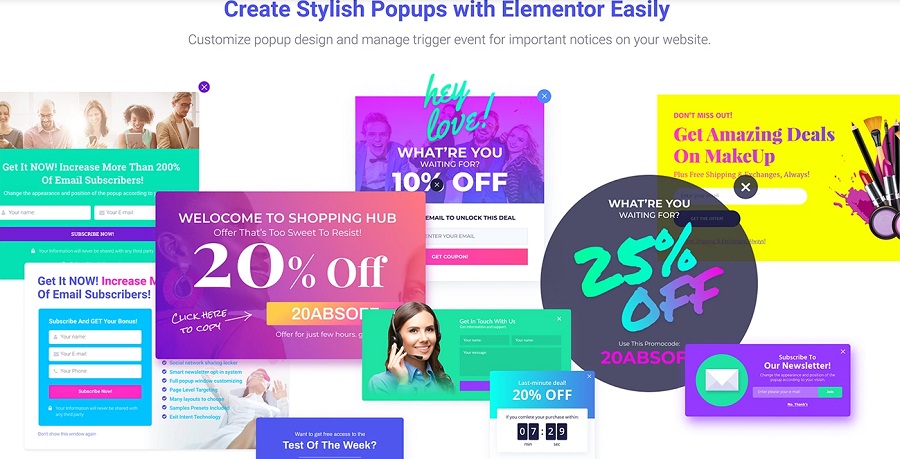 You can adopt a practice of Elementor users who enjoy incorporating stylish popups in their site code to grab customers' attention and generate leads. This email marketing method works 100% because it doesn't require much effort, time or money from you. For $10, you can get a fresh looking, niche specific popup template dedicated to Elementor Pro users.
Popup templates are worth your attention and money since they are intended to:
focus your customers' attention on the main subject of your business thanks to a stylish, visually appealing marketing graphic design;
return your abandoning visitors and turn them into subscribers and customers using different motivation messages like discounts, coupon codes, free gifts, etc.;
make your customers complete a purchase (for example, offer a discount or give a present).
Effective Design Tricks to Make Email Campaigns Successful
When emailing don't forget about undisputed importance of design in your marketing efforts. No matter what the topic of your site is, emails have to look catchy and functional. Utilizing visually appealing and informative messages provides your business with successful and forward-looking emailing. To boost the effect of popups and emailing, website owners should add special marketing graphics to the design. For the reason, pay attention to the following design tricks for email marketing:
Pleasing to eye fonts
For Bill Gates, "Content is king." For effective, noticeable email, readability is king. Don't try to make your message look extraordinary using hard-to-read fonts. Have own character is a plus, but first, it's important to provide readability. Popup messages need less a second to be looked through. Thus, when it comes to convincing customers, try to incorporate a simple and appealing text to catch users' attention immediately.
By the way, popup typography has to look relevant to your business niche. If you have a consulting agency, don't use childish fonts. In this scenario, the lack of formality will reduce the level of credibility to your service. However, kids/entertainment websites and invitation design for email marketing need more impressive yet legible fonts.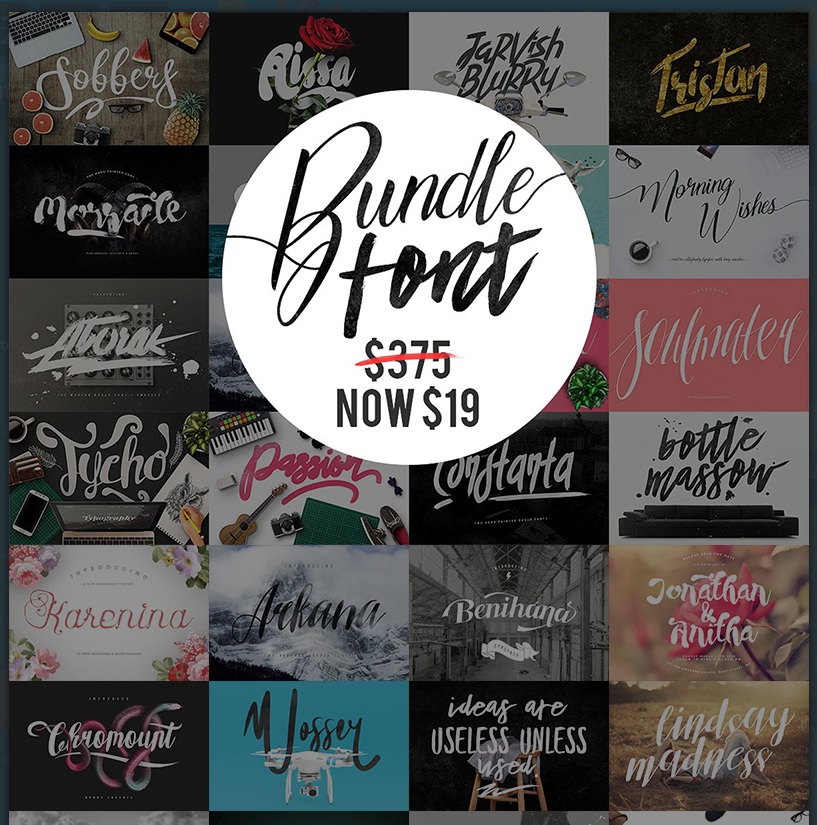 If you're not tech-savvy to create your own design for emails, take inspiration from this amazing template. Mega fonts bundle includes:
35 appealing fonts suitable for various business areas;
Thousand glyphs;
Tons of bonus marketing graphics.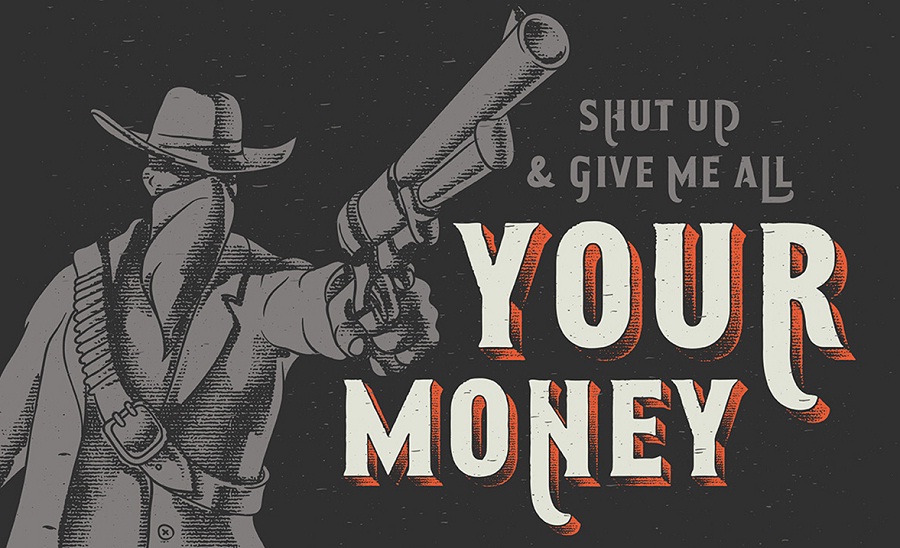 Smoking Typeface + Illustration Font will come in handy for those who are looking for a vintage western font. This template comes in separated font files allowing an owner to easily change the color of the text. The main features of the product are:
The ability to choose the format: OTF, TTF, and WOFF;
Characters are available in vector Eps 10 format;
Poster with a western man.
Symbolic, informative icons
Speak with compelling icons. Email marketing has to contain minimum info but grab maximum attention. Small graphical elements help readers quickly identify the subject of email without reading the whole text. Design for digital marketing [especially email] should be neat and straight-talking. Icons allow conveying your message without effort and extra words. Self-explanatory small images are intended to focus readers' attention on the subject of the email and direct to CTA button.
According to Nielsen Norman Group research, using icons gives a number of benefits:
Well-designed icons can be recognized at a glance;
Typically sized icons can be easily touched that makes them perfect for mobile touch screens;
They save space of your email;
They are understandable for international users.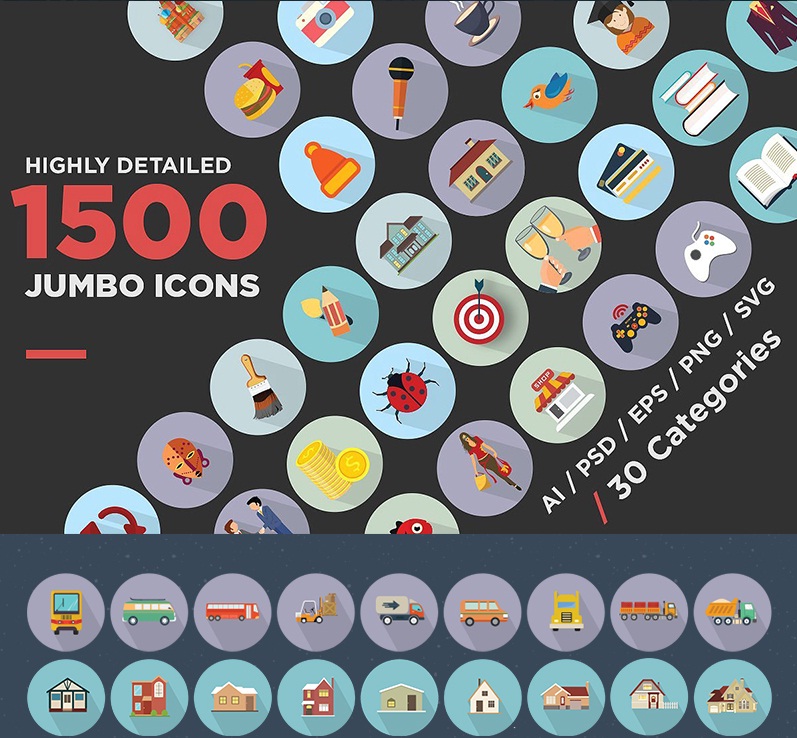 Take a closer look at ready-to-use Jumbo Flat Icons Pack Icon Set Template. With this astonishing package, you won't have difficulty enhancing usability your email marketing. The template features:
Full compatibility with all the possible platforms;
1500 high-quality icons;
30 categories;
Available in all the possible formats: PNG, AI, ESD, PSD, SVG.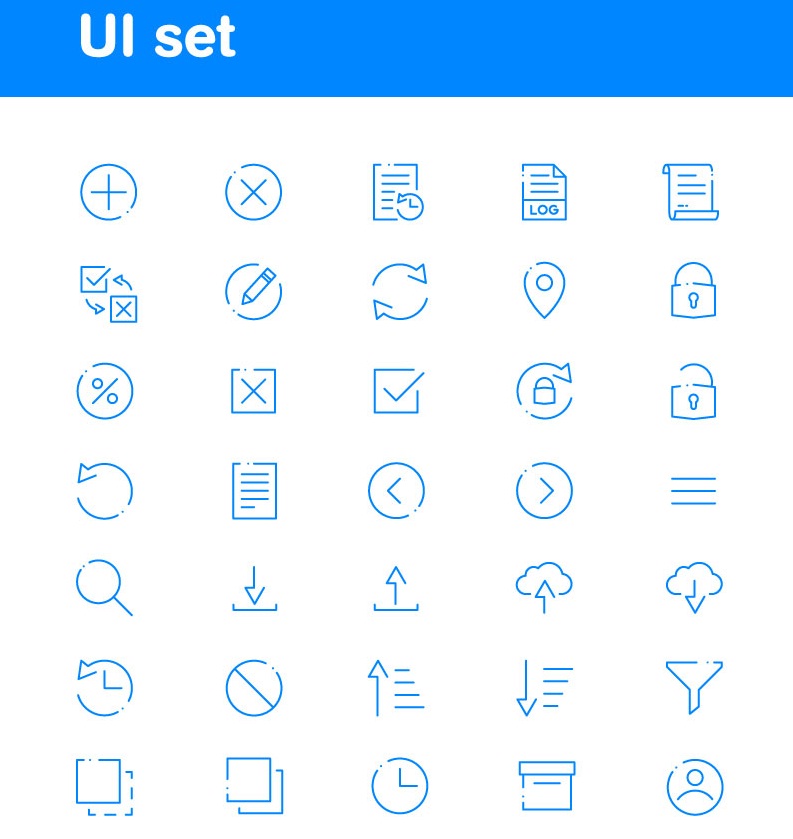 Pay attention to the basic set of UI-dedicated icons – UI-Basics Iconset Template. Their meaning is exact and very easy to interpret/memorize. They can be used for email graphic design and marketing needs: apps, ad campaigns, mockups, infographics, promo materials, etc.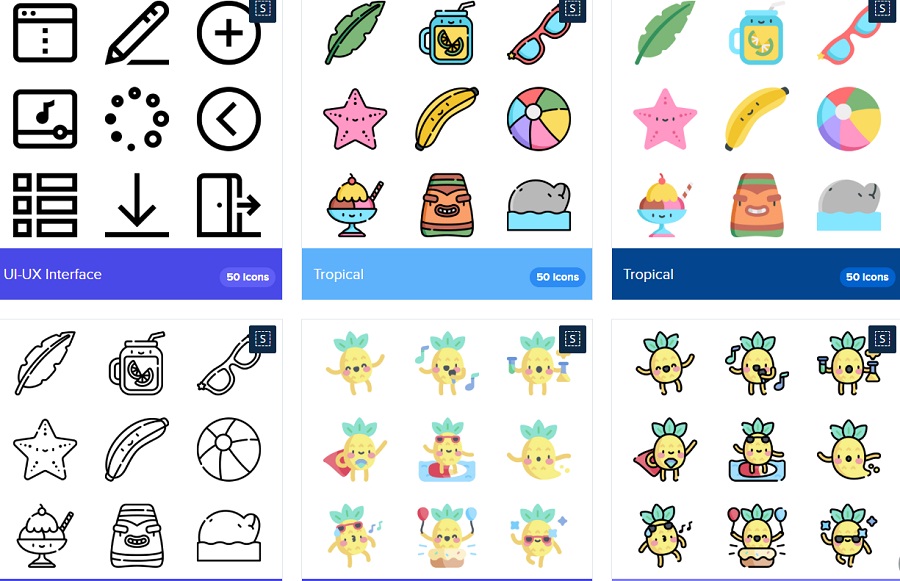 If you're looking for free icons, Flaticon.com offers over 1mln icons grouped in 38,714 packages. This service is one of the largest databases of icons available for free and in all the possible formats. The collection is a way huge to satisfy needs even the most sophisticated web design.
Truly Effective Web Banners & Animated Banners
People hate receiving too many worthless emails. Using catchy web banners with impressive content will add value to your emailing. In addition to the possibility to increase overall engagement, web banners can lead to effective monetization of your business. With relevant animated banners, the content of your email becomes more dynamic, appealing, and interesting.
Banners allow you to capture the highest possible ROI of email. Moreover, it's a great opportunity to involve third-party content and blend it with your content. It will incredibly boost the overall relevance of your promo message for the user.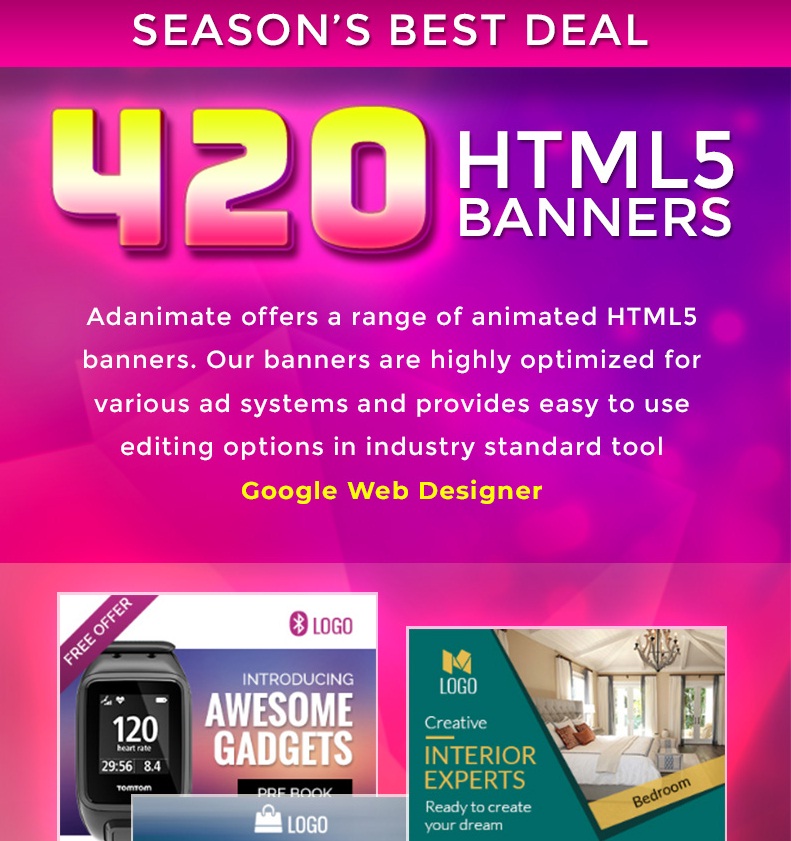 With Premium 420 Animated Html5 Banners Bundle, your email marketing will deserve readers' attention. This product allows anyone to create a truly remarkable email with informative banners. The bundle consists of:
Over 60 banners;
420 editable files that require Photoshop and Google Web Designer software;
Tutorial;
7 banner sizes.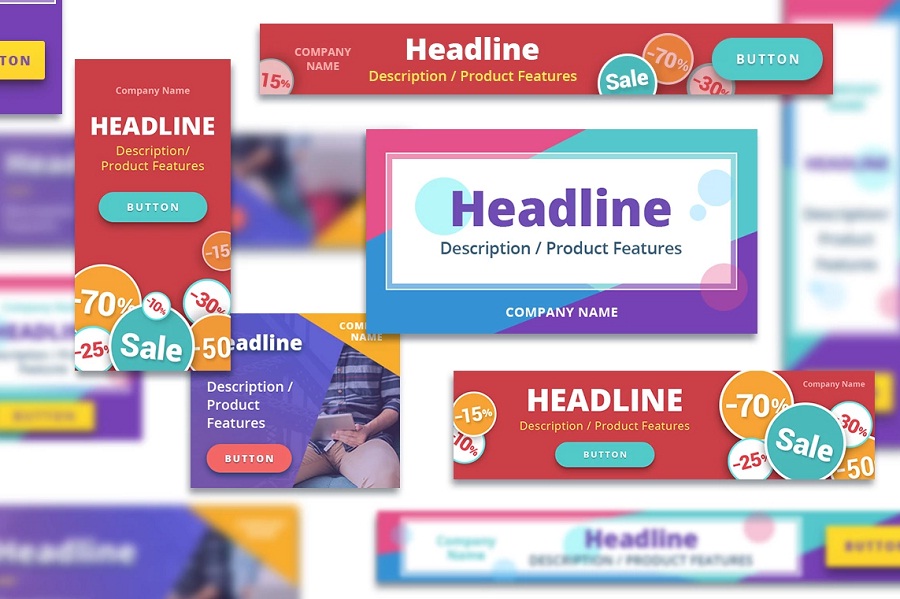 Those who get used to working with PSD files can use 30 PSD Web Banners template allowing them to easily create professional banners. All 30 files meet the latest Google requirements.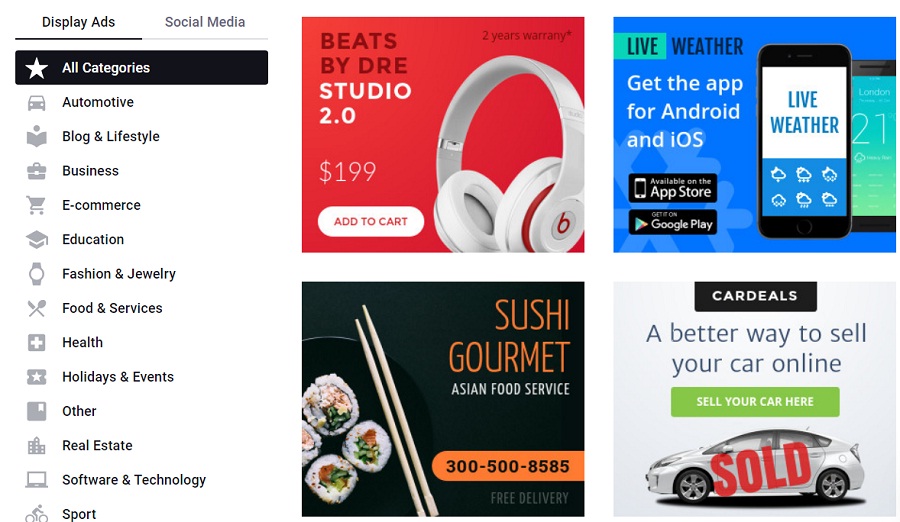 If you're not a tech-savvy web designer and want to get rid of the challenge to animate a banner, opt for a free animated banner template for free. You can customize your banner using a collection of free HTML5 Animated banner templates available at bannersnack.com. There are over 4000 templates ready to use for nothing.
Modern Social Media Banners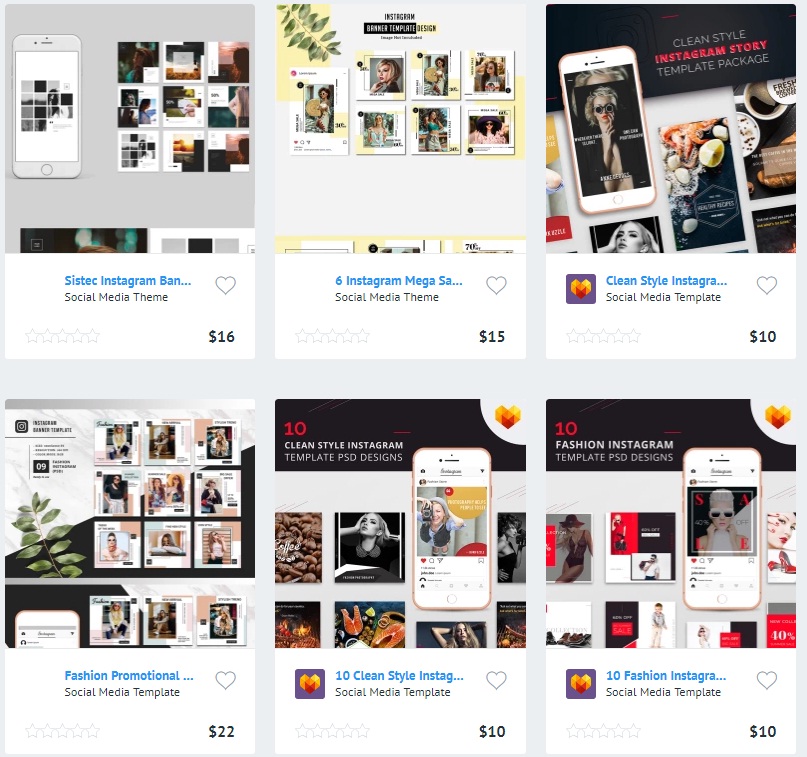 Cutting-edge marketing strategies involve social media tools. Today it's impossible to build a powerful online presence and promote your business online without trustworthy reference to major social media platforms and profiles. For this reason, incorporate attractive banners in your email marketing. There are tons of social media templates crafted especially for increasing your ROI in a short period of time.
Wrapping up
When creating designs for your email marketing, remember that 99% of consumers check their email every day. In that regard, you have almost 100% possibility to engage your consumer with your email. That said, take maximum efforts and design tricks to make your message get noticeable. But when designing email campaigns, try to keep your design straightforward, minimalistic, and visually appealing.
Take benefits of using professional premium email templates since they are fully optimized for maximum effect. Creativeness is a plus, but professionalism in email marketing is more effective.