A well-designed website is a crucial asset for any hosting service provider. Your website is often the first point of contact between potential customers and your business. To make a lasting impression and convert visitors into loyal clients, you need a hosting website template that looks great and functions seamlessly. This guide will walk you through the key features to consider when choosing the perfect hosting website templates.
Design Aesthetics and Trustworthiness
The first thing your visitors will notice is the design of your website. A clean, attractive, and aesthetic design is essential in promoting trust. When visitors land on your site, they should feel confident in your hosting services. Ensure that the template you choose exudes professionalism and trustworthiness.
If you wonder where to buy website templates, consider checking out the TemplateMonster Author Store. There is a wide range of premium and free hosting website templates for all purposes and needs. You can find several of the best responsive themes for hosting companies described below.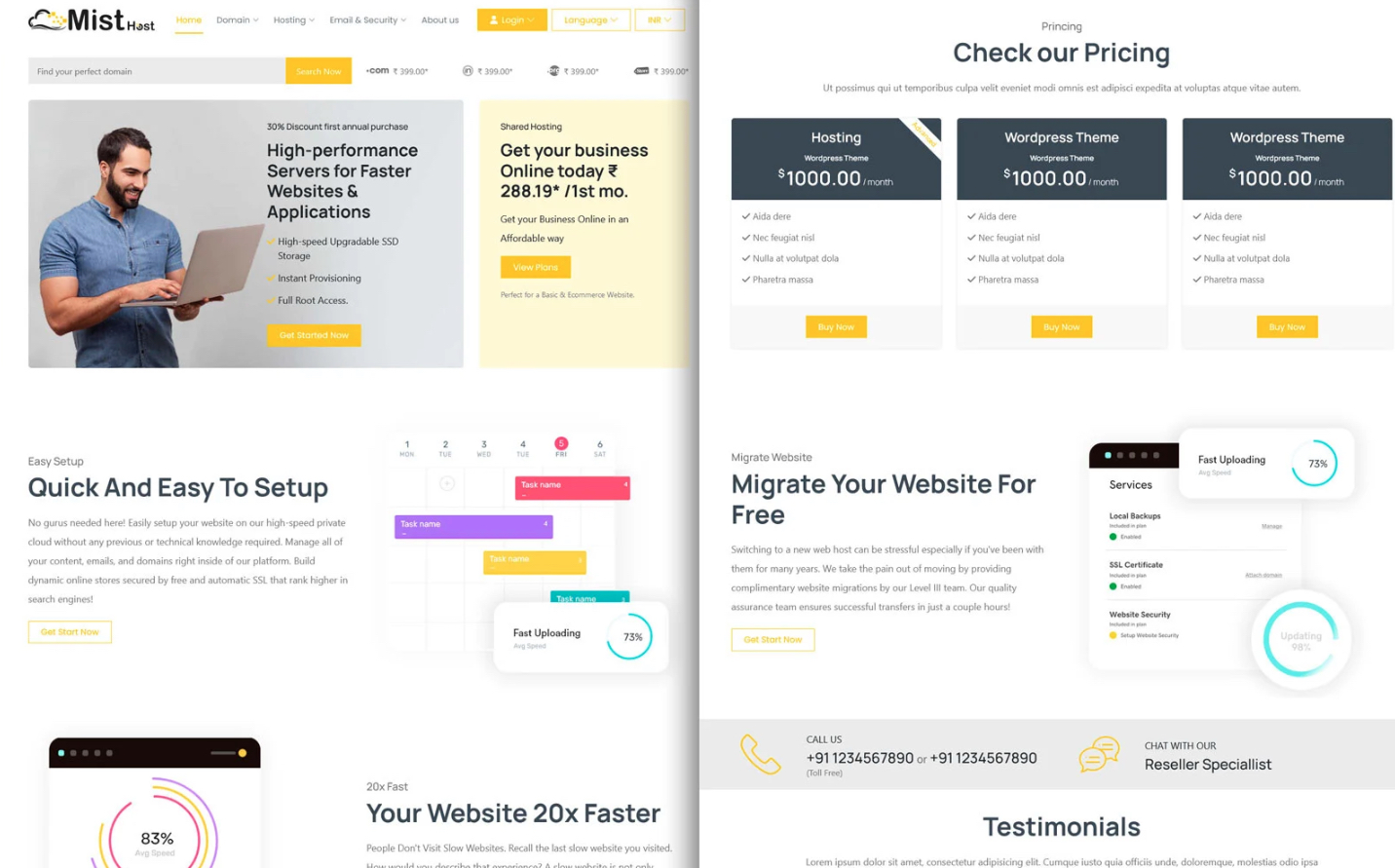 Mist is one of the hosting HTML templates designed for a quick and seamless website launch. It includes WHMCS order form templates, making it easy for web hosting sellers to showcase their products effectively. WHMCS enables you to manage everything from customer sign-ups to terminations, covering billing, support, and client management. This theme offers a responsive design, ensuring it functions smoothly on all device sizes. With customizable web hosting templates and user-friendly features, Mist provides an ideal starting point for web hosting projects and a strong foundation for their success.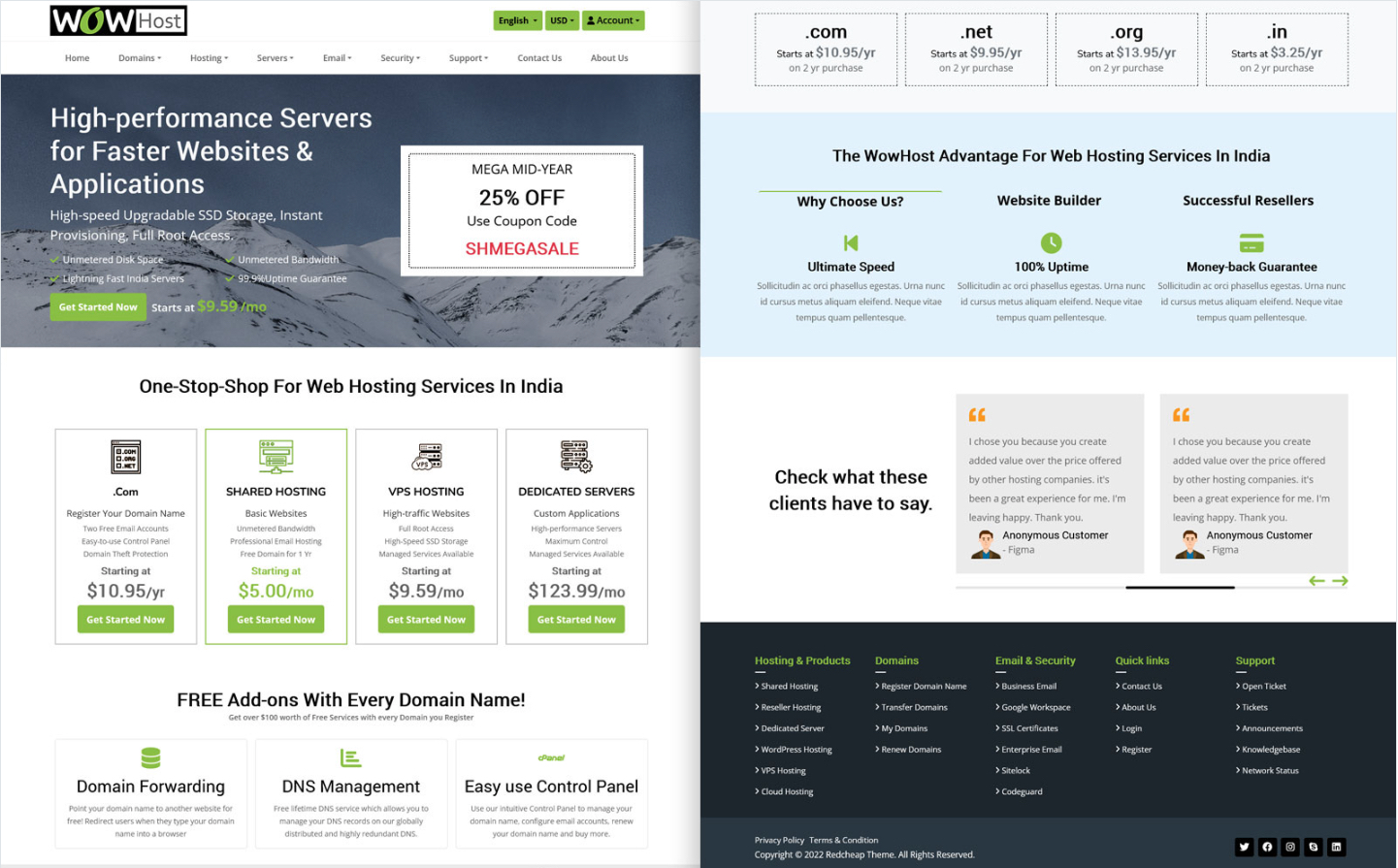 WOW Host is a WHMCS theme that works seamlessly across web browsers and integrates with WHMCS order forms. This theme is designed to adapt to various screen sizes, whether mobile, tablet, or computer. It's a great example of multi-functional hosting website templates that offer a range of user-friendly features, such as a built-in blog, social media icons, a company profile page, a spotlight for testimonials, and more. It's highly customizable, user-friendly, and includes detailed documentation for quick setup. This premium WHMCS hosting template uses the latest WHMCS 8.7.3, HTML5, and CSS3.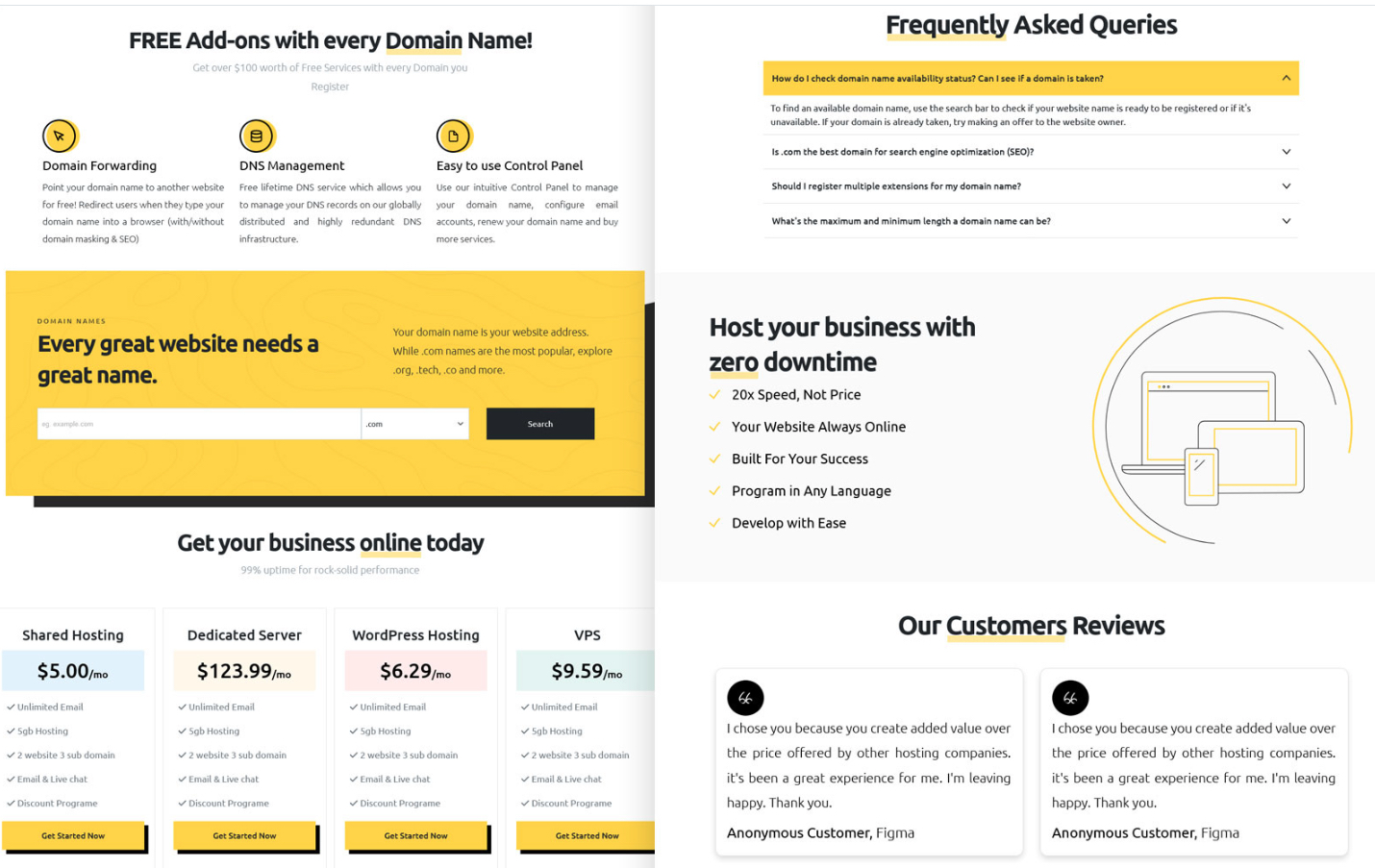 Uhost is an impressive premium website template designed specifically for hosting companies. It stands out as one of the top responsive themes based on the latest WHMCS version. It provides web hosts with a fantastic platform to professionally and attractively showcase their products and services. This WHMCS theme is highly optimized for SEO and is built using advanced HTML5 technology. It is adaptable and seamlessly functions on mobile devices, tablets, and computers. This premium theme includes unique WHMCS pages and offers customization options for individual preferences. It is also user-friendly and has comprehensive documentation to aid the setup process.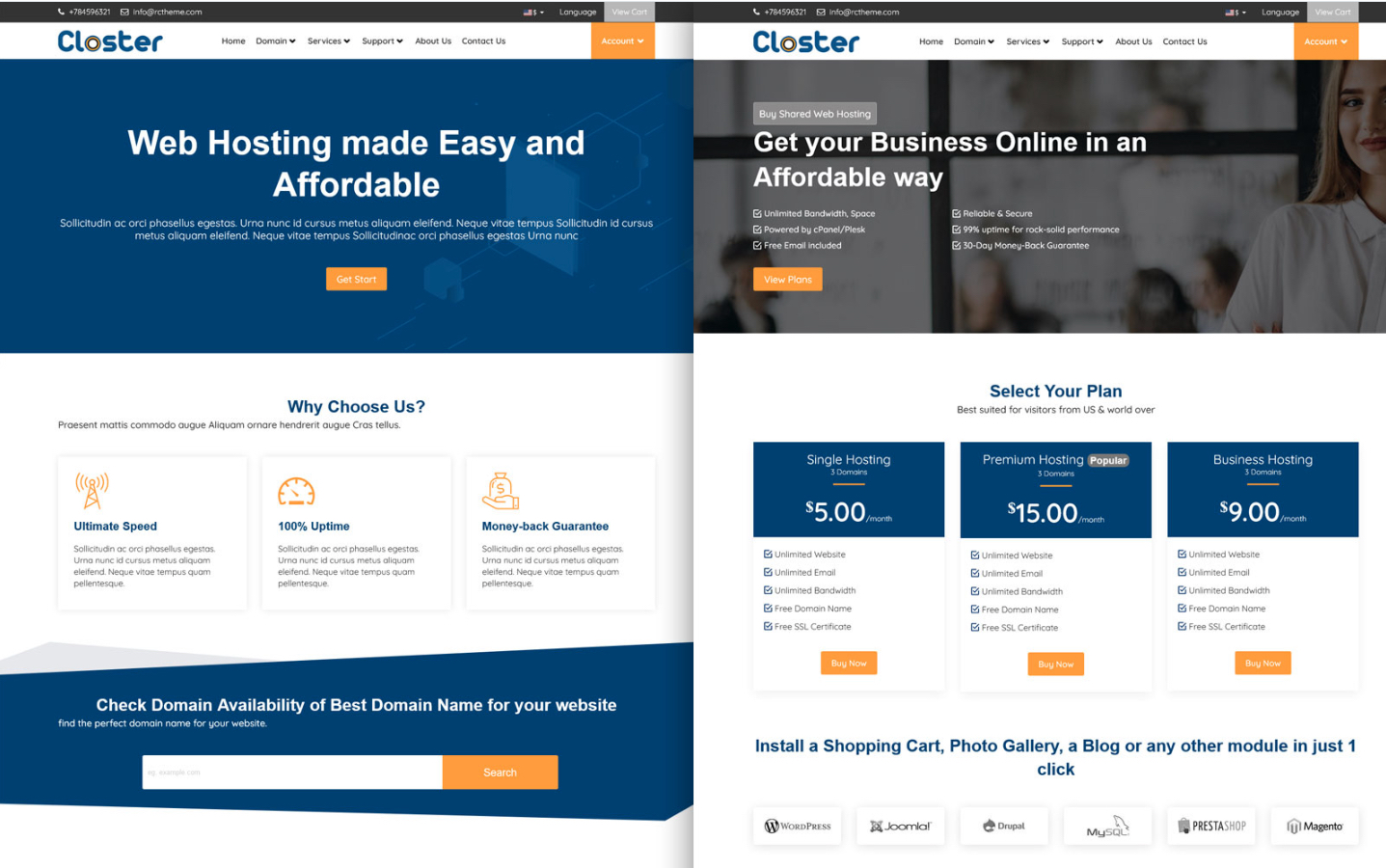 Closter is a responsive WHMCS web hosting theme with user-friendly features for maximum impact. It's powered by the latest Bootstrap technology, ensuring lightning-fast loading times on any device or platform. It provides a consistent user experience across multiple web browsers. The Closter template is a modern, sleek website design suitable for WHMCS and HTML-based web hosting sites. It boasts a responsive and adaptable design that functions seamlessly on all devices, from desktop computers to smartphones. Notable features include a homepage slider highlighting key features and promotions, a responsive pricing table for comparing hosting plans, and integration with popular payment gateways like PayPal and Stripe.
Responsiveness Across Devices
In today's mobile-centric world, when 85.88% of the world's population owns a smartphone, your website must be accessible and functional on various devices, including computers, tablets, and smartphones. A responsive template adjusts seamlessly to different screen sizes, ensuring a consistent and user-friendly experience for all visitors.
Sections for Hosting Details
Your hosting website template should offer dedicated sections where you can provide a detailed description of your hosting services, packages, features, and benefits. This information is crucial for potential customers to make informed decisions. Ensure the chosen hosting website templates allow you to effectively present your pricing, hosting packages, and any possible add-ons.
Content Publishing Capabilities
If you plan to publish news, articles, or tips related to hosting and technology, consider a template that includes relevant sections for blog posts or articles. Fresh and informative content can engage your audience and position your brand as an industry authority.
FAQ and Support Information
A hosting website should make it easy for visitors to find answers to common questions. Look for templates that include a dedicated FAQ section or an area where you can provide essential support information. A well-informed visitor is more likely to become a satisfied customer.
Contact Options
Your hosting website template should offer various ways for visitors to contact you. This can include a contact form, phone number, email address, or even live chat support. Easy access to customer support enhances trust and can lead to quicker conversions.
Social Media Integration and Testimonials
Incorporating social media links, customer reviews, and testimonials into your template can help build credibility and engage your audience. Potential customers often seek validation from the experiences of others. Showcase your satisfied clients to reassure visitors of your hosting service quality.
SEO
Last but not least, your hosting website template should be well-optimized for search engines. SEO-friendly templates ensure that your website ranks higher in search results, making it easier for potential customers to discover your services. Attention to elements like meta tags, header structure, and image optimization.
Final Words
In conclusion, selecting the right hosting website template is a critical step in establishing an online presence that attracts and retains customers. A clean, responsive design, comprehensive sections, content publishing capabilities, support features, contact options, social integration, and SEO optimization are all key elements to consider when choosing.
As a bonus, we have a special offer for you! Use the promo code "rctheme" at TemplateMonster for a 7% discount on hosting website templates. Take advantage of this opportunity to enhance your online presence and grow your hosting business!