How to hide Inactive Clients in WHMCS?
WHMCS is a well-known platform among web hosting companies and service providers for its capabilities to automate several aspects of a business and make the processes seamless. These processes can include customer signup, provisioning, management, support, to name a few.
Further, WHMCS also helps in automating the billing so that web hosts can focus on businesses, rather than manual and repetitive tasks.
To make the platform even faster and more efficient, it added a new feature in WHMCS 7.7 and above versions. This feature is named 'Hide Inactive Clients'.
What is an inactive client in WHMCS?
The clients whose status is not set to 'Active' in WHMCS is called an inactive client.
On the basis of products, services, addons and domains within the accounts of clients, WHMCS automatically handles the status of clients. For instance, if a client has at least one active service, then his status will be Active. On the other hand, a client with no active services will be having an Inactive status.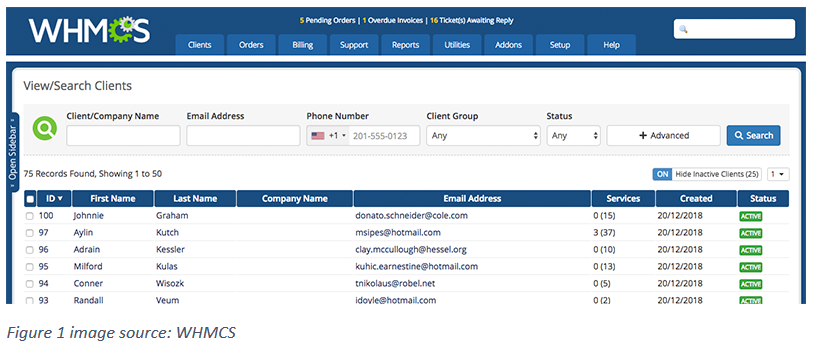 Why to hide inactive clients in WHMCS?
At the time of making searches in WHMCS panel, your aim is to find current and active clients, rather than inactive ones. However, the panel shows you all the clients, whether active or inactive. This makes your search experience a little complex and takes more time in finding the right client.
If you hide the inactive clients, then only current and active clients will remain visible there. This way, you can easily find the people you are looking for. Prioritizing the active clients will make your search process quicker, easier and more efficient.
Since, the client search is performed by users several times a day, this feature is proving to be a real time-saver for them.
Lists that support 'Hide Inactive Client' feature
You can hide the inactive clients and their services or products for these functionalities in the admin panel:
Clients List (Clients > View/Search Clients)
Client Product List (Clients > Products/Services)
Client Domains List (Clients > Domain Registrations)
Client Addons List (Clients > Service Addons)
Intelligent Search
This feature is not available with WHMCS versions below 7.7. It was one of the most requested features by users. The feature makes sense as it provides significant value to the most of WHMCS users.
How to hide inactive clients in WHMCS?
Coming to the main point, the supported areas will hide the inactive clients by default.
There is a toggle button at the top of the results list which can be turned ON and OFF whenever required. This button also shows the number of clients that has been hidden due to inactiveness.
To enable the hiding of inactive clients, just click on the toggle button and turn it ON.
To see the combination of active and inactive clients, just click on the toggle button and turn it OFF.
Suggested reading: How to integrate Google Analytics in WHMCS?
Over to you:
Hiding inactive clients in WHMCS can save you plenty of time and turn your focus towards what matters most to you. This can boost your productivity and make your work processes seamless.
How do you like this feature? Let us know via the comments below.