Enabling Automated Backups in WHMCS (Importance and methods)
You will not realize the importance of data backup, until you lose your important data and it's too late to recover. Many reports from leading companies show that businesses are facing cyberattacks like ransomware and malware which results in loss of critical data.
Data loss can occur due to several reasons like cyberattacks, natural or manmade disasters, internet or power outage, hard drive failure, etc. Regardless of these causes of data loss, if you have the backup of all the data, you don't have to worry about anything.
What is data backup?
Data backup is the process of creating the copies of your data and storing it at a different location, from where it can be used again, in case things go wrong with original data.
Today, this has become very crucial for businesses of all sizes to have a backup plan, or they will fail terribly in events of data loss.
Consequences of data loss
"The average cost of a data breach is $3.86 million." – IBM
If you lose your important files, documents, or website database, you will need significant amount of time and resources to recover things and get over the loss. However, it is almost impossible for anyone to recover everything unless they have a backup plan.
These are the main consequences of data loss:
Reputation damage
Exposure of sensitive and critical data
Loss of customers
Permanent failure in business
Backup process for WHMCS users
If you are a service provider or any other business who is using WHMCS platform to power the website, then you must know that WHMCS provides automatic backup process. The automated backup in WHMCS can help you to back up your database on a daily basis, so that you can keep yourself ready in cases of disasters or attacks.
WHCMS backup process enables automatic backup of your entire database which you can upload to SFTP/FTP location or get it emailed to a desired email address.
Related read: Where to find custom WHMCS themes for your web hosting website?
Automated backups in WHMCS platform
While the backup feature was available with the previous versions of WHMCS, but from the WHMCS v7.3, the platform has got an automated backup feature. This automated backup feature in WHMCS allows you to request full backups and get things done automatically on a daily basis.

Currently WHMCS provides automated backup support for the following methods:
cPanel Backups
Secure FTP Backups
Email Backups
Let's discuss these backup methods before heading over to how-to part:
1. cPanel Backups in WHMCS
In case you are using cPanel with your WHMCS installation, then consider the use of cPanel Backups feature that comes built-in the cPanel. It enables you to start backing up your full file and database by creating a backup of your complete cPanel account. Then you can send the backup to your desired location/destination, such as your local server, remote locating using Secure Copy (SCP).
For cPanel backups, you will need API credentials and username for cPanel web server.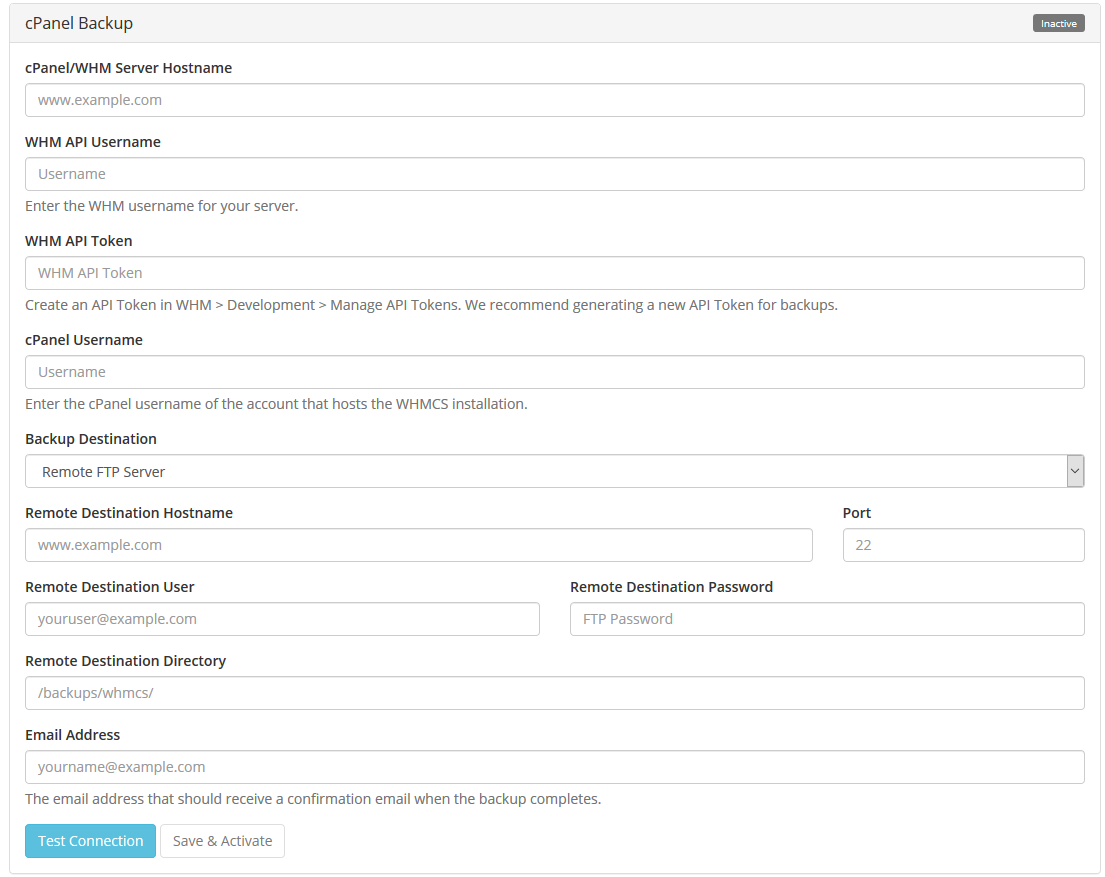 2. FTP Backups in WHMCS
For the WHMCS installations without a cPanel, you should prefer Secure FTP Backups. With this method, there will generation of your WHMCS database backup on a daily basis, which will then be securely FTP to the desired destination.
Please note that this method is useful only for the database backup automatically. Files and filesystems will need to be backed up manually.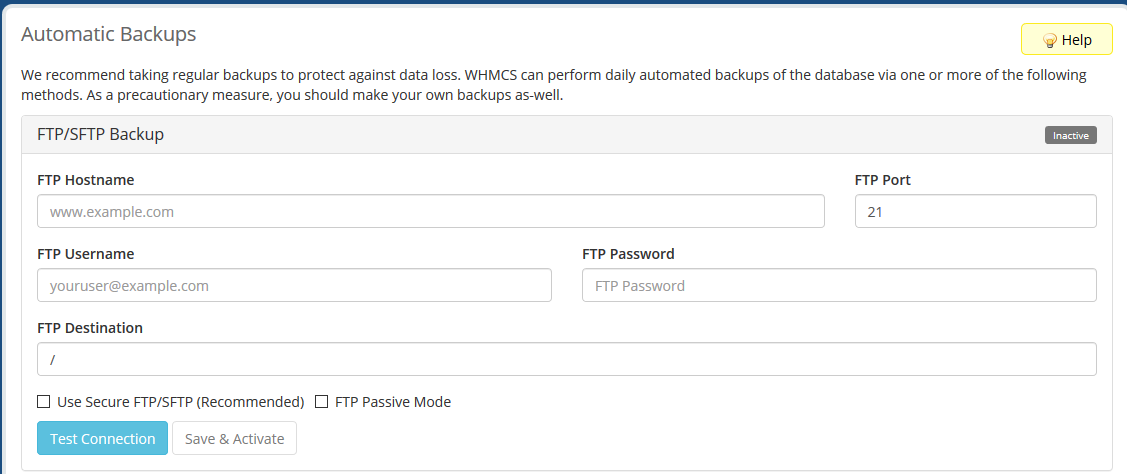 3. Email Backups in WHMCS
The email backups are good only for the users who have a development installation, or no other servers for backups. WHMCS team doesn't really suggest the use of email backups because of certain performance and security issues.

4. External Backups in WHMCS
If you are a business with highly sensitive and critical database and system, then it always good to have external backups along with the primary backup solution. This can help you to recovery everything even if primary backups face disaster.
How to enable automatic backups in WHMCS?
The automatic backups in WHMCS can be configured from: Setup > Other > Database Backups.
For backups with FTP/SFTP and cPanel backup options, you will need to test a connection before activation. The purpose of this testing connection is to check whether the information is valid to connect the WHMCS installation with server.
SFTP/FTP Backup
When you go for SFTP/FTP backup option, the zipped SQL file created from the WHMCS will get located on a remote server. Select and check the 'Use Secure FTP/SFTP (Recommended)' box to upload the backup via an SFTP connection.
cPanel backup
for cPanel backups, the username of your cPanel account will be the name of the account that you want to back up.
If you want to save the backup file to a server, select the Home Directory. If you want to use FTP for backing up files on a remote server, then select Remote FTP Server.
In cases of using passive FTP for backing up files on a remote server, select the Remote FTP Server (Passive Mode Transfer). If you want to use SCP for backing up the file to a remote server, then use the SCP option.
Related read: How to configure domain name expiry automation in WHMCS?
Handing over to you:
Undoubtedly, the backups are crucial for every website and business. If you are using WHMCS installation, then use the above-mentioned methods to enable automated backups in WHMCS and secure your data.
If you have any queries or looking for the best WHMCS themes, reach out to us via the comments below.